A Little Black Dress Vol. 5
Audience:

Mature & Classy
---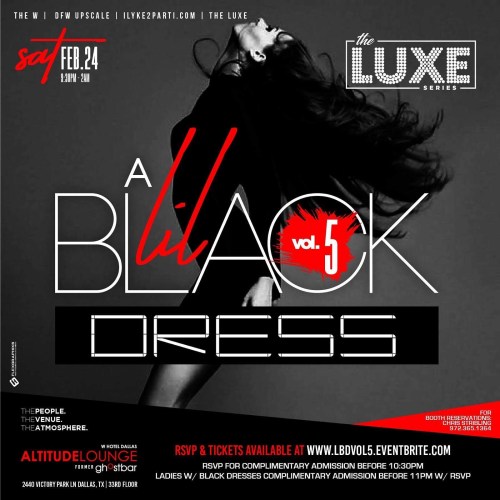 Sat, Feb 24th | The Luxe Presents ::"LITTLE BLACK DRESS"
Saturday//Feb. 24th

"A Little Black Dress", Vol. 5
[The Luxe Series]
Where:
Altitude [aka Ghostbar] | 33rd Floor | 2440 Victory Park Ln. | Dallas, TX 75219
When: SAT. |Feb. 24th
Time: 9:30pm - 2am
A Little Black Dress…
The "little black dress" is an essential part of woman's wardrobe. It is a well-known "rule of fashion" that every
woman should own a simple, elegant black dress that can be dressed up
or down depending on the occasion.
Ladies:
We want you to jazz it up by wearing a little black dress
just for the night. Not too formal, not too casual…just sexy!
"Who was that sexy woman
in that little black dress?"
Men:
Stylish & Scented. A suit is not necessary. However, your style
should suit the event accordingly. If in doubt, dress up, not down.
:: For your enjoyment::
*RSVP for complimentary admission before 10:30PM
*Ladies w/ Black Dresses complimentary admission before 11PM w/ RSVP
*Presale Guaranteed admission tickets
*VIP Bottle service
*Garage & Valet Parking.
RSVP & Tickets available at
www.lbdvol5.eventbrite.com
For booth reservations:
Chris Stribling - 972.365.1364 |
Brought to you by:
The W | DFW Upscale | iLyke2parti | The Luxe
---
Phone
972.365.1364
Location
Altitude
---