Concerts, Parties/ Happy Hours
Junior Reid Live In Concert
Audience:

21+
---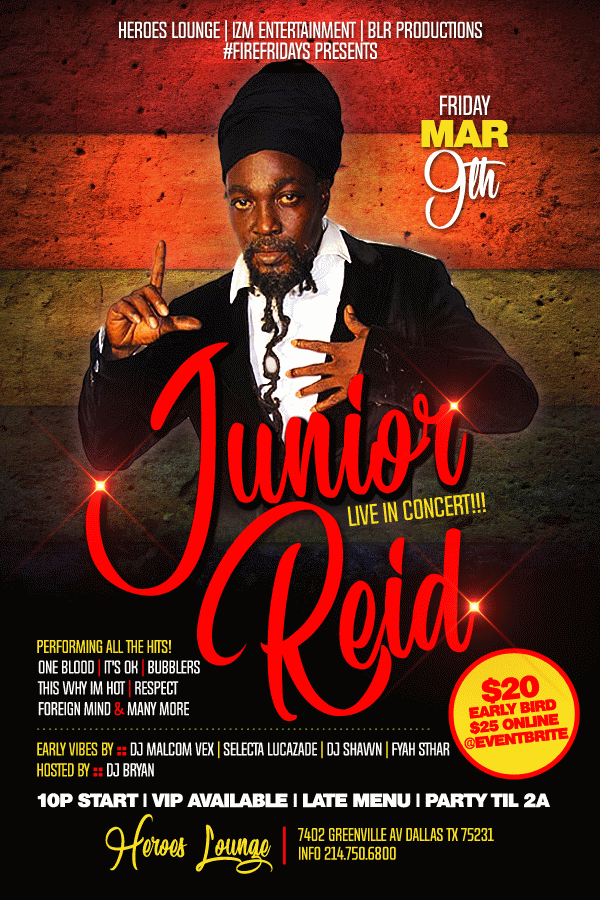 J U N I O R R E I D
GRAMMY NOMINATED ARTIST
AKA "MR ONE BLOOD"
LIVE AND IN CONCERT FOR "FIRE FRIDAYS!"

UP CLOSE & PERSONAL W/ THE ONE BLOOD BAND!
FRIDAY MARCH 9

PERFORMING ALL THE HITS!
ONE BLOOD | IT'S OK | BUBBLERS | THIS WHY IM HOT | RESPECT | FOREIGN MIND & MANY MORE!

EARLY VIBES BY: DJ VEXX & GUESTS | ALSO YUNG JR & FYAH STHAR |
CHEF KJ SERVING GOOD CARIBBEAN DISHES ALL NIGHT!
THIS WILL BE A FUN NIGHT OF REGGAE / DANCEHALL AND A GREAT SHOW!

COME EARLY TO GET A GOOD PARKING SPOT - IT WILL BE A FULL HOUSE ///
10P START | VIP AVAILABLE | LATE MENU | PARTY TIL 2A
$20 EARLY BIRD | $25 TICKETS @ EVENTBRITE BELOW.
WWW.ONEBLOOD.EVENTBRITE.COM ///
@HEROESLOUNGE / 7402 GREENVILLE AV /
DALLAS TX / 75231 / 214.750.6800

The former lead singer of Black Uhuru, with chart topping hits including the monster hits One Blood and This is Why I'm Hot, Junior "One Blood" Reid is a worldwide Reggae/Dancehall Legend, universally loved and respected by fellow artists and fans. At the age of eighteen, Junior was asked to be the lead singer of Black Uhuru. While he was a member, the group was nominated twice for a Grammy Award in the Reggae category. Opening for their father on this February 2018 Living Legend tour is his son - Yung JR. Junior's last album The Living Legend was released in 2016 and he has a new album finished called Kingston, Yard Style scheduled to be released in February 2018.

7402 GREENVILLE | DALLAS TX | 75231
HEROES LOUNGE...GOOD FOOD...GOOD VIBES...
(NO TICKET NEEDED BEFORE 10P)

#HEROESLOUNGE #REGGAEDAYPARTY https://www.facebook.com/hashtag/vibeology

http://www.heroeslounge.net/
---
Phone
214.750.6800
Location
Heroes Lounge
---